Lockaby Campground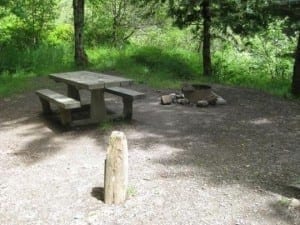 Lockaby Campground is ideally located next to the Wild and Scenic Clackamas River in the lush, green mountains of northern Oregon. It provides access to some of the area's greatest whitewater rafting, as well as a famous place to fish. Whether it is relaxation or recreation, there's something for everyone at the campground.
Natural Features:
The campground is situated along the river at an elevation of about 900 feet in Mt. Hood National Forest. Most campsites are within a dense stand of cedar trees overlooking the river. Sites are fairly close together and there is very little vegetation on the forest floor.
The forest provides habitat for the federally protected bald eagle and northern spotted owl, as well as an occasional peregrine falcon. A variety of wildlife makes its home in the area.
Recreation:
Fishing is very popular in the Clackamas River and anglers can expect a catch of winter steelhead, spring Chinook and late summer Coho salmon, as well as other species of freshwater fish. The Clackamas contains miles of wild water as it bends and drops through the scenic Cascade Range, creating prime whitewater rafting opportunities.
A hiking trail follows the river north and south and begins about a mile away at Fish Creek Campground. Scenic driving is also available on the West Cascades Scenic Byway, which travels alongside the river.
Facilities:
The campground offers more than two dozen single-family sites for tent and RV camping, though RVs over 16 feet are not recommended due to the steep terrain within the facility. Each site is equipped with a table and campfire ring with grill. Accessible vault toilets and drinking water are provided, but no hookups are available. Parking surfaces are paved and gravel.
Nearby Attractions:
A boat ramp is available at Fish Creek Campground, which is less than a mile south of the campground. It provides a convenient river launch for kayaks, canoes and rafts.
Just below nearby Indian Henry Campground, the Clackamas River offers 12.5 miles of class III-IV whitewater. The Upper Clackamas Whitewater Festival is hosted annually in May, attracting rafters from all over the country.
Activities and Amenities
Within Facility

Accessible Vault Toilets
Birding
Campfire Rings
Canoeing
Drinking Water
Firewood Vendor
Fishing
Grills
Hiking

Host
Kayaking
Parking Area
Tables
Visitor Center
Water
Whitewater Rafting
Wildlife Viewing

Within 10 Miles
Know Before You Go
In accordance with standard industry practices, Mount Hood Recreation will be assessing a $8 additional vehicle fee on the second vehicle in each single family campsite, and on the third and fourth vehicle in any double family campsite, provided these vehicles are not joined to the first vehicle by a hitch and towed onto the site. In the case of motorcycles, the first two are considered as one vehicle for determining additional vehicle fees. The third and fourth motorcycle would also be considered as one vehicle. No additional vehicle fees are collected for bicycles.
Off-road vehicle use is prohibited within the campground
Click here for more information on Mt. Hood National Forest
Don't Move Firewood: Please protect Pacific Northwest forests by preventing the spread of invasive species. Firewood can carry insects and diseases that can threaten the health of our western forests. You can make a difference by obtaining and burning your firewood near your camping destination. VisitDontmovefirewood.org for further information.
Getting There:
GPS Info. (Latitude, Longitude):
45.16583, -122.15139
45°9'57″N, 122°9'5″W
From Estacada, take Highway 224 east for 15 miles to the campground.
Phone Number:  (503)630-6861